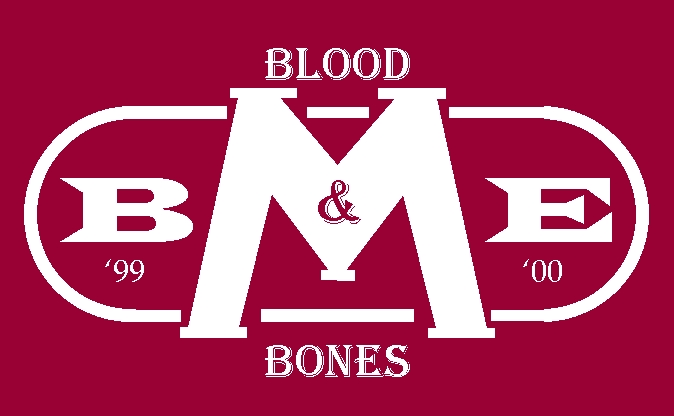 BME SPORTS HOMEPAGE
Home of the 2003 and 2005 SRSL Beer Cup Champions,
and the 2006 Co-Rec IM Football Champions!
<![if !vml]>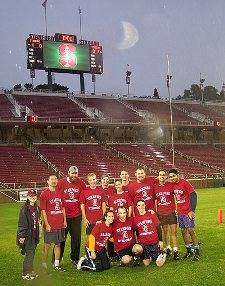 <![endif]>
---
Stanford Intramurals (Fall, Winter, Spring)
SRSL League Page (Summer)
---
Fall 2008 Headlines:
Likely Final Bloodshot Football Season Ends With Playoff Losses
Fall 2007 Headlines:
Post-Championship Slump Hits Bloodshot Football With First Losing Season
Fall 2006 Headlines:
Bloodshots Win IM Co-Rec Football Championship!
Summer 2006 Headlines:
BME Softball Logs 200th Win For BME Sports, Then Makes Early Playoff Exit
Fall 2005 Headlines:
BME Football Combines with Longshots to Lose DII Finals After Miracle Finish in Semis
Summer 2005 Headlines:
BME Wins Second Beer Cup In Three Years!!!
Winter 2005 Headlines:
BME Basketball Misses Playoffs Despite Undefeated Season
Fall 2004 Headlines:
BME Knocks Off Top Seed, Then Loses In Quarters on Late Kickoff Return
Summer 2004 Headlines:
BME Stunned in Beer Cup Finals After Undefeated Regular Season
Winter 2004 Headlines:
BME Basketball Isn't Very Good
Fall 2003 Headlines:
BME Skips Football Season Due to Misunderstanding of Eligibility Rules
Summer 2003 Headlines:
BME Softball Upsets Previously Undefeated Aero-Astro to Win the 2003 SRSL Beer Cup!!!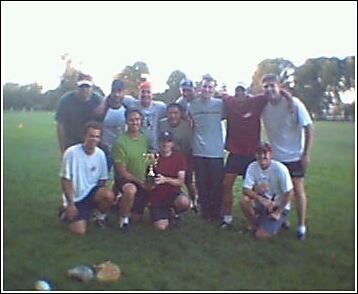 Spring 2003 Headlines:
BME Soccer Ends Otherwise Disappointing Season With Win
Winter 2003 Headlines:
BME Basketball and Volleyball Both Miss Playoffs
Fall 2002 Headlines:
BME Football Loses by 1 Point in Semis to Eventual Champions
BME Ultimate Loses in Quarters After Defection of Key Players
Summer 2002 Headlines:
BME Postseason Failures Continue as Softball Blown Out in Semis
Spring 2002 Headlines:
Yet Another Postseason Disappointment as Soccer and Softball Both Lose Early in the Playoffs
Winter 2002 Headlines:
BME Finishes Fall Quarter Sports at .500 For First Time!
Fall 2001 Headlines:
BME Ultimate Frisbee Gets BME Sports 100th Win!
BME Football Loses in Division 2 Finals, BME Teams Now 0-6 in IM Finals
Cumulative Records For All BME Sports:
A Winning Tradition....Well Over Half The Time
| | | |
| --- | --- | --- |
| | 7-5 | .583 |
| | 9-13 | .409 |
| | 12-6 | .667 |
| | 6-8 | .429 |
| | 17-10 | .630 |
| | 10-16 | .385 |
| | 19-9 | .679 |
| | 12-1 | .923 |
| | 13-8 | .619 |
| | 5-5 | .500 |
| | 9-4 | .692 |
| | 11-3 | .786 |
| | 12-3 | .800 |
| | 3-7 | .300 |
| | 2-3 | .400 |
| | 11-2 | .846 |
| | 2-3 | .400 |
| | 12-1 | .923 |
| | 4-3 | .571 |
| | 3-0 | 1.000 |
| | 10-4 | .714 |
| | 8-1 | .889 |
| | 7-5 | .583 |
| | 12-2 | .857 |
| | 4-5 | .444 |
| | 5-6 | .455 |
| TOTALS | 225-133 | .628 |
Sport-By-Sport Breakdown
Through Fall 2008
| | | |
| --- | --- | --- |
| Softball | 82-33 | .713 |
| Football | 57-33 | .633 |
| Soccer | 24-8 | .750 |
| Ultimate Frisbee | 19-8 | .704 |
| Volleyball | 19-24 | .442 |
| Basketball | 18-25 | .419 |
| Table Tennis | 3-1 | .750 |
| Water Polo | 3-1 | .750 |
| TOTALS | 225-133 | .628 |
Pictures:
Check out these pictures of the 1999-2000 BME athletes in their shiny new team shirts!
Thanks to Sanmit Basu for organizing the t-shirt acquisition!
Front
Back
BME Sports Injury Image Gallery:
Chris Dyrby, softball
Jason Kaiser, football
---
Site Last Updated: December 14, 2008 by Rich Bragg